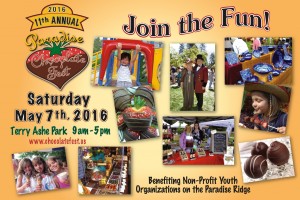 "All you need is love.  But a little chocolate now and then doesn't hurt."  Charles M. Shulz
"I owe it all to little chocolate donuts." John Belushi
It's time for hype, chocolate hype.  And it's okay to indulge.
Experience a chocolate paradise on the Paradise/Magalia ridge nestled among tall green pines in the Sierra Nevada Mountain foothills, where we strike the perfect balance between a historical Gold Country past and the comforts of modern living.   Join a community with a big heart and love of chocolate for the 11th annual Paradise Chocolate Fest benefiting non-profit youth organizations on the Paradise Ridge.
The Paradise Chocolate Fest was honored at the State Fair as one of the "Top Food Festivals" in the California.  Activities will be held Saturday, May 7 at Terry Ashe Park on the Skyway in Paradise from 9 a.m. to 5 p.m.  Special events throughout the day include a Chocolate Pancake Breakfast, Chocolate Chase Fun Run/Walk, Chocolate Cuisine Challenge, Chocolate Pie Eating and Cookie Stacking Contests, Super Sensational Ice Cream Sundae Eating Contest, and a variety of Musical Entertainment on two stages.
Admission is only $5.00.  Children aged 4 years & younger get in free.
We're also having a book sale.  I'll be joined by a slew of regional authors, illustrators and publishers as part of the festivities.  If there's an open microphone I may read a story (in between bites of chocolate that is).
 2016 Beneficiaries include: Achieve Charter School, Boy Scouts Troops #316 & #770, Cub Scouts Pack 316, Evergreen 6 Academy, Girl Scouts, Gold Nugget Museum, Maximum Potential, Northern California Ballet, Paradise Dancers, Paradise Friends of the Library, Paradise High School Band, Paradise High School Girls Basketball, Paradise High School Musical Production, Paradise Host Lions Club, Paradise Piranhas Swim Team, Paradise Rotary Interact, Paradise Youth Soccer, Rainbow Girls, Simple Gesture, Strings In School and Youth for Change.
Come out and join the fun.  For information contact "Youth on the Ridge Community Foundation" Executive Director, Debbie LaPlant Moseley at debbie@chocolatefest.us or www.chocolatefest.us.  Or visit my Etc. Guy site for additional information…  See you there.  Visit me on Facebook too.