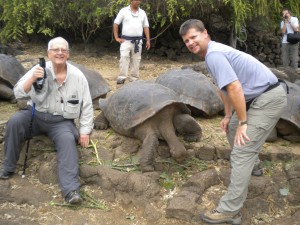 Note: We're in the season of Mother's and Father's Days.  This story appeared in several newspapers and magazines.  I wanted to share it again.  Dedicated to parents.
I don't remember my parents pursuing fun.  They worked too hard.  Nor did they understand the concept of a bucket list.  The buckets we used carried paint. 
My folks live in Colorado, my home state.  We typically see each other three times a year and often speak via phone but it's during visits I notice their mortality.  They tire easily and discuss ailments.  And after more than 50 years of marriage, much of the time they drive each other crazy.  It's no surprise they occasionally need a break from each other.
It was during one visit, with the house full of in-laws, when tensions rose.  The house was full of estrogen—his wife, my wife, my mother-in-law, and my daughters.  Dad and I were outnumbered and watched the banter like a tennis match.
"Too much commotion," Dad whispered.  "Let's go."
"Where," I asked, "to a bar?"
"To the Galapagos Islands and the Amazon River.  They're on my bucket list."
We snuck away that afternoon, met a travel agent, and booked flights to Quito, Ecuador, our temporary base between jaunts to the Upper Amazon Basin and the Galapagos Islands.  We confessed our plot that evening over dinner.  With steely eyes our wives glared like gamblers sitting around a poker table.  Then came rapid-fire inquisitions.
"What are you two thinking?  What about the cost?  And your daughter's birthday?"
"Hold tight," Dad advised, "Say nothing."
Silence worked.  Two days later we had the green light.  "It's a once-in-a-life-time opportunity," acknowledged the women-folk.
So, in 2009 we traveled ten days together in Ecuador.  Dad brought his cane and I made sure he took his medications.  We caught piranhas and photographed toucans in the Amazon jungle and sat next to Blue-footed Boobies and giant tortoises at the Galapagos Islands.  Dad reveled like a boy scout without a den leader.  No rules, total freedom.
Now skip to 2011.  After waiting over seventeen years on the National Park Service's registration list I received a permit to lead a private rafting trip down the Colorado River through the Grand Canyon.  I kayaked through the Canyon in 1993, got injured, and finished the trip wearing a sling.  I originally filed for my permit in 1994 but by the time I received one, at age 48, I had endured two shoulder dislocations, one knee surgery, and had been taking pills to combat a prostate the size of a condor egg.  Otherwise I felt great.
I was allowed to take fifteen people on a 16-day, 225-mile river trip through some of the most rugged country in the world.  Planning for this expedition required numerous logistics.  We needed to be self-reliant for all food, potable water, waste management, equipment, shelter, medicines, safety and emergencies.  Many friends expressed interest.  We'd encounter 20-foot tall waves, swift currents, and desert heat.  I needed an enthusiastic, strong, energetic, and committed team, able to row a fleet of five rafts and capable of weathering the elements.
The group size ebbed as plans materialized.  Several friends cancelled.  They couldn't afford the time.  Then Mom called.
"I'll go if you have space," she said, almost apologetically.  Mom's a city-slicker but had previous Grand Canyon rafting experience. However, those were on commercially guided week long motorized trips nearly thirty years prior.  For this trip she'd be on my raft and I'd row.
"You and Dad went to Ecuador," she lobbied. "I want to do a bucket list trip with you too."
"Mom, you're nearly 70.  Once we launch there's no way out except down river.  Cell phones don't work in the Grand Canyon.  We'll be off the grid.  Our toilet is a gigantic ammo-can that I'll need to carry back and forth from the raft to camp every day.  What about Dad?"  I tried to be gracious and quietly wondered if she'd take the bait to bail.
"Your brother and sister can watch him," she persisted.
My siblings agreed, urging her to go for it.  Then I called Dad.
"Mom wants to raft through the Grand Canyon with me.  You'd be alone for three weeks.  Can you get along?"  I figured Dad would put a stop to Mom's silliness.  But he surprised me.
"Take her, take her, put her in front!" (Dad later left a message for me to bring her back in one piece.)
So Mom joined my expedition, the group's token grandma.  She labored and laughed in camp, cajoled with the team, and didn't complain about the toilet.  She earned bragging rights at her Pilates class afterward.
I recall my parents as vibrant adults but the years are quickly catching them.  Just when I think they're fizzling out they throw curve balls.  Like wanting to explore South America or raft the Colorado River.  After spending time with them I now know why I'm who I am.  They're wearing older bodies yet are as curious and adventurous as I am…..and they're fun.
I wouldn't trade going on my parents' bucket list trips for anything.  It makes me think that I better do more bucket list trips… with my girls.
###
See my trip video too, 16 days condensed into 14 minutes.  I'm also on Facebook.