I'm neither sweet nor perfect that's certain.  At least I admit it.
But it took a stumble upon hidden booty to remember that FEBRUARY 14th soon approaches.  The booty, a See's Candy ® bag larger than a parachute, hid in plain sight on the kitchen counter next to the toaster.  At first I thought it was laundry but the heart shaped pressboard inside the translucent plastic was a sure give-away.  A guy with a brain the size of a chiclet could figure out the contents.  It's a laundry bag on the counter next to the toaster with a detergent container shaped like a heart.  Still, the message rang my dumbbell.
Years of past Valentine's Days, and subsequent miscalculations, scrolled by me like a series of choppy power point slides.  A few slides with chocolate flickered by, some with flowers, oh…and that blouse (nearly forgot that).  I've tried the dinners and cards with ho-hum reactions.
In reality, for most guys Valentine's Day is but a mulligan for the holidays.  It's a make-up day, akin to a snow day for missing school.  The problem though is that if guys screw up Valentine's Day we have a long haul to the next "day" whatever day that is: her birthday, Mother's Day, anniversary day, Friday.  If you mess those up—AND Valentine's Day— your sentence in the dog house just got a little longer.
So I've enlisted the help of my digital pen pal, Sally Writes, of Trenton, New Jersey.  Sally is a peach, a real woman who uses a real pen name with real Trentonian motherly perspective.  She's not a fake fan (like I am where I write my own fan mail).  Sally has tracked Etc. Guy the past few years and took pity on my efforts to figure things out.
With thanks to Sally Writes, from three time zones away, here are some ideas for clueless guys.  Here ya go:
Three (3 count 'em) Creative Date Night Ideas for Valentine's Day
Valentine's Day is a week away so step things up a notch and treat your wife. According to a study, nearly eighty percent of people who are dating, engaged, or married celebrate the special day, although married couples are not as enthusiastic about hearts and flowers. To save money some married couples celebrate after Feb. 14 when the hype dies down. But don't go broke showing your wife how much you care. Do something unexpected.  Be creative.  Have fun.
Wine bar crawl
Does she love wine? Instead of a sit-down dinner try a wine bar crawl instead. Sample different wines and order tapas at every crawl place, compare notes and people watch. Show your loved one you're still the same spontaneous and adventurous guy that she fell in love with.  Plan a good crawl.  Pace yourselves so you actually make it to all the places that you plan visiting.
Dinner and movie at home—with a twist
For those on a tight budget set up your Valentine's Day date at home. Plan on dinner and a movie date night, but toss in some twists. First, clean the house then set the mood by lighting candles or tea lights. [Guys, I interject here.  Hire a maid to clean house.  You're no good at it.]  If she's partial to romantic comedies (i.e. My Big Fat Greek Wedding) watch the movie after dinner. Make pasta, with Greek ingredients such as feta cheese, olives, and sun dried tomatoes. Prepare a dish inspired by the film. Remember dessert.  [Guys, I interject again.  Do not rent Scarface, Remember the Titans, or any Dallas Cowboys Cheerleaders videos.  Get.  A. Chickflick.]
Resort night
For a mini getaway use your DIY ingenuity and create a resort in your backyard. Fill a kiddie pool with warm water and bubbles, light tiki torches and candles, then play her favorite love songs. Relax in the "tub" with your wife. Sip champagne or hot tea while chilling in the water. [Guys, I need to jump in again.  If you're reading this from Alaska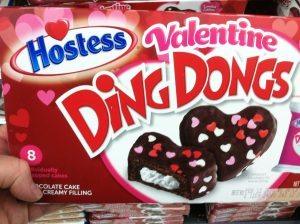 or Minnesota DO NOT fill your kiddie pool in the back yard.  She wants a hot-tub, not a hockey rink.  Try inside a heated garage…uh…decorated with living palm trees and paper mache rainbows.  Don't be a Ding-Dong.]
Try any of these Valentine's Day date night ideas.  Have a great time with your loved one. She'll appreciate the effort you made to spend quality time with her.  It's about making her feel special.
S/ Sally Writes
Thanks Sally, I appreciate your right-brain perspective for us guys parked in the left-brain.  I'll try your advice.  In our house pasta is a hit.  And so is wine.  And I do enjoy My Big Fat Greek Wedding.    I'll skip the chocolate this year though because it's already hiding near the toaster.  Happy Valentine's Day.
###
Visit the Etc.Guy Facebook page too.  And if you're really adventurous check out my NEW writing project, Garbage Talk.  I just launched Eric Miller's Garbage Talk on Facebook.  Like 'em both.   See ya in print.