by Jack
Well, it's officially begun in Butte County! Local citizens have formed a committee to promote the State of Jefferson here and get a resolution before the Board of Supervisors for a vote. Tentatively, this would come as soon as the 24th of October.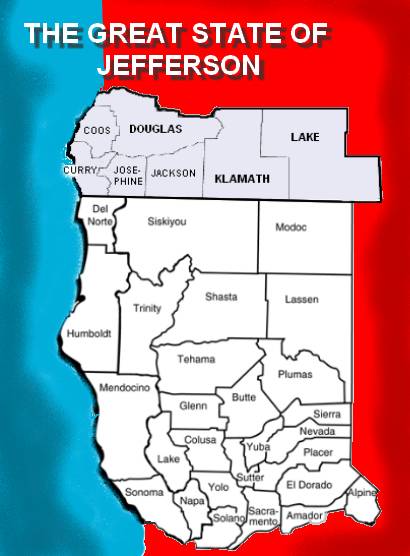 The State of Jefferson concept began back in 1940 in Siskiyou County and then it folded up quickly with the outbreak of WWII. However, it's an idea that will not go away and the more the State of California taxes and does not provide fair representation to the North State the more this idea gains popularity.
Assemblyman Stan Statham from Chico once proposed that we split the state because of the different priorities between Northern and Southern California, but it never made it out of committee. The new Jefferson movement is based along that thinking and more. It seems well thought out and they've drawn up a list of grievances with California why some of our counties (and a few Oregon counties) ought to combine to form a new State. That and there is a need to balance the social and economic disparity within this State. Changing demographics have left NorCal without much clout in Sacramento. As a taxpayer you should know the voting power is all in the far Southern region and this means whatever they want to do they can. The North State is pretty much at their mercy.
A division of Ca should have appeal to both Republicans and Democrats because it would give Democrats a lock on California, even more so than they have now. And in the North the Republicans would no longer be irrelevent in Sacramento. GOP bills in Jefferson would have a much better chance of being passed since the North State is generally populated by conservative voters concerned with preserving liberty.
This country would founded on grievances that were less compelling and less severe than those confronting today's North State voters. And the nations founders had a heck of a lot more to lose than we do today, yet they found a way to make their dream to a reality, why can't we? The odds may not favor us, but two things to remember: The odds won't get any better and we've got nothing to lose by trying. If the State isn't split then at least the gripes will have been bought out in public like never before. Mostly those gripes are about taxation without representation and water rights, but there are plenty of others too. They deserve to be heard and then maybe those legislators with a twinge of conscience may be moved to do something about it? We can only hope!
One County Supervisor recently said he didn't want anything to do with this movement because he didn't want to look like an idiot. That's unfair and an elected official should set aside such personal concerns and focus on doing what is right. If that's his main concern then they he's in the wrong business, because nobody in politics is free from being mocked and no bill is either! Imagine if that was the litmus test in 1775! Gee, somebody might make fun of me if I sign this Declaration of Independence. Well, if that was the limit of their courage then I would be sipping tea today, not hot coffee. The only thing politicians in the North State should concern themselves with is, is this the right thing to do for the people? The answer seems pretty clear to me, but then I'm not a politician and I'm not concerned what others might think of me if I support creating a new state.
The Vision: I can see people from all over the country and the word flocking to this new State of Jefferson simply because it is founded on libertarian principles of less government and more freedom. That has a lot of appeal to many people, and not just Americans. This could be really big!
I admit that anyone can find a ton of reasons why this new State of jefferson is not likely to be born, but again, I pose the question: Isn't it right to try? The State of Jefferson and the State of California would ultimately be better off if they were left to direct their own future based on what their constituents want. There's nothing wrong with bringing government closer to the people is there? No, of course not, and when that happens everybody wins.
I hope the Butte County Board of Supervisors vote to back the State of Jefferson resolution.
By the way…some college student in last week's News and Review said she was against this because she didn't want to see them separating from the United States! Of course that is not the intent, this is a realignment of boundaries. It's done all the time for redrawing political districts under the guise of fairness and balance. Well, the North State hasn't seen fairness or balance for decades and if left unchecked it's never going to either because the votes are all in the South. The only way to insure equal representation is by a split of the State.