by Jack
It's called the Trust Act, but it's just another silly sanctuary bill to protect illegals in California. If signed into law, it would in greatly limit California law-enforcement agencies from participating with the federal government's ICE program that has led to millions of deportations of…. tens of thousands illegals Mexicans. (Yeah, I meant to say that, you know we have a porous border and they keep coming back)
Supervisor Cortese is one of five liberal Santa Clara Supervisors that passed an immigration law 2 years ago that conflicts with the federal law and forces local police to ignore federal requests to detain people charged with crimes on immigration grounds. It makes you wonder who they represent, the people of America or Mexico?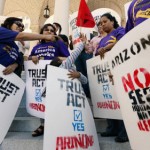 Arizona tried to pass their own immgiration laws and they were immediately charged with interfering with the administration of federal immigration law. then again they sought to rid themselves of illegals.  These were the illegals that were causing no end of criminal problems and placed a heavy burden on their safety nets as they drained their tax coffers. The action against AZ was initiated by the Obama Administration and it drew widespread applause from liberals and illegals alike. Santa Clara's sanctuary laws, as well as a host of other cities, also interfere, but in the opposite way. They want to protect illegals from deportation and oddly they are subject to little or no criticism from the White House because it's politically expedient and advantageous to take that position.
The sanctuary laws found in Stockton, Sacramento, San Francisco, Berkeley, Los Angeles, etc., blatantly pander to the Hispanic vote and they fit the utopia belief by those who seek a borderless society where people are free to roam. However, it's now a proven fact such laws also tend to protect criminals, encourage crime and raise the cost of government.
The new Trust Act would define certain crimes that do not warrant a phone call to immigration because in the authors mind the higher duty is to protect the family unity. Somewhere along the line these legislators have lost sight of their first and highest duty to protect American citizens.
And you wonder why there is a movement to split this state?