Posted by Jack
By Staff writer | Al Arabiya News
Sunday, 24 August 2014
A former British rapper who abandoned music to join the lines of ISIS is now being investigated by UK authorities following the execution of American journalist James Foley in Syria.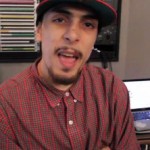 Abdel-Majed Abdel Bary reportedly left his home in London last year to fight in Syria. He was originally known as L Jinny or Lyricist Jinn when his music career started, a report by the Independent said. Some of his singles and videos were aired on BBC Radio in 2012, according to the newspaper.
The 24-year-old rapper came to national attention earlier this year when he tweeted a picture of himself "holding a severed head" in Syria, the newspaper said. The horrific picture was accompanied with a message that said: "Chillin' with my homie or what's left of him."
According to the Independent, Bary's father was an Egyptian refugee "thought to be one of Osama Bin Laden's close lieutenants."
Q. Why did England let this radical into their country?