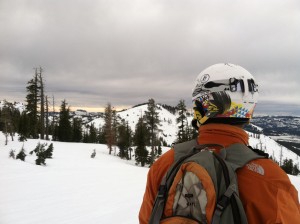 "You stink."
No, it wasn't an old hockey coach griping about my lousy shot, but another person of high esteem.  My wife, Hun, pinched her nostrils while Kate sprang for the Lysol®.
"It's bad.  The dogs howl and the cats hide when you're around.  Birds no longer visit the feeder.  You've become a smelly, middle-aged man.  You need to do something, especially if you wear that tattered, reeking ski gear.  You're killing me with your 1990s era long-johns.  I don't want to live with a malodourous, old man."
I don't understand her fuss.  I have two pairs of twenty-year-old polypropylene long-johns.  Aside from their overstretched waistbands, they fit like a glove.  I paid big bucks for them at the time; they're $50 a pair nowadays.  But, yes, sweaty polypro smells worse than liver and onions. 
Skiing is one of my passions, albeit she's an expensive mistress, so I scrimp and save.  These same long-johns serve double duty on summer raft trips.  I'll forego new underwear so I can use the extra bucks for lift tickets, gas, or equipment for the kids. 
"Mom's cranky, eh, Kate?"
"She's right, Dad.  You reek.  I didn't want to say anything.  That's why nobody rode the chairlift with us.  Plus, your ski pants have a rip in the crotch."
Yikes, I hadn't noticed that.  I wondered if other skiers noticed my crotch.  Typically at home, only our Labrador notices one's crotch.  But I can extend the life of my ski pants using duct tape.
I ski with a daypack loaded with sandwiches, good old raisins and peanuts (GORP), fruit, and whatever isn't nailed down in the pantry.  This saves me from a $20 hamburger at the lodge.  Kate's a good sport when it comes to my food prep—though that day she nearly fainted.  My twenty-year-old pack is loaded with assorted items.  I often forget what's inside.  It could be food, but mostly its critical stuff for wilderness survival.  I unzipped the pack. 
Kate watched as I took inventory: Two matted but fresh cheese sandwiches,  foot lotion, first aid kit, harmonica, beef jerky, extra socks, wool cap, toilet paper (you never know), smashed crackers, water bottle without cap, spare cap to different water bottle, key ring, whistle,  Luna bar, chapstick, battery, pocket knife with missing corkscrew, old business card, bandages, bandana, naproxen, eyeglass repair kit, tweezers, sewing kit, analgesic, cough drops, extra knee brace, string, and an opaque bag of GORP.  On the bottom was a bruised banana and orange peelings from last week's hike.  My daypack was a cross between a pharmacy, lunch box, locker, and compost bin.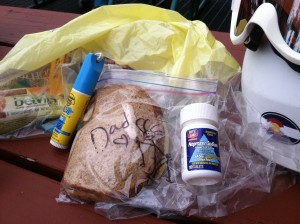 "Want some GORP?" I asked.
"No thanks.  It looks like it should be carbon dated."
"Mom wrote February 2012 on the bag."
"You're not eating that, are you?"
"No, but I'll eat the Luna bar.  It's only a year old.  If we were astronauts, we'd be okay. "
"Yeah, but we're at 7,000 feet outside a ski lodge, not in outer space."
We ate our cheese sandwiches and skied two more hours.  We listened to Coldplay on the drive home, which sidetracked Kate's olfactory nerves, and arrived after dark.  I unloaded the gear and showered.  I shaved, brushed my teeth, and rolled on deodorant.
"Whoa… you smell horrible," Hun said.
"Quit messing with me, you're dreaming."
"Seriously, you smell metallic… like aluminum."  Hun winced and turned away.
I read the ingredients of the roll-on which was labeled "Body Heat Activated."  Among ten other chemicals I can't pronounce, it contained sodium starch, castor oil and talc.  The key active ingredient was aluminum zirconium tetrachlorohydrex.  The deodorant was made in a smelter.
Hun may have been right about my aluminous odor but that's an easy fix.  I'll either buy some Old Spice® or use her stuff.  Just don't ask me to chuck my long-johns.  I have too many miles on them.  I wonder, though, if I'll ever not smell like something. 
Maybe as we age, she'll lose her sense of smell.
###
For more fun visit www.etcguy.com and join the Etc. Guy Facebook page.  Please share, or send me a note at eric@etcguy.com.