"If you think about a Thanksgiving Dinner, it's really like making a large chicken." Ina Garten, Host of Barefoot Contessa, Food Network
It's not the minutes that put on weight, it's the seconds.
I'm unsure who said that but whoever said it was right. Hardly three weeks have passed since my final raid on the kids' Halloween candy. My body weight has inched up and out, with muffin tops laying over my jean tops—a new seasonal baseline for my waistline. One of my life's goals is to have a smaller waistline number than inseam number. I should forget about it during Thanksgiving because I'm definitely not getting taller.
Like many Americans we indulge in typical fare: turkey, dressing, mashed potatoes, gravy, pumpkin pie—the works. At meal time an unfinished game of Scrabble® usually sits on a table top in front of an unfinished football game on TV.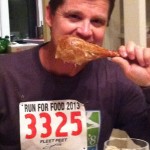 My wife Hun cooks up a tasty bird but this year her mom and my youngest daughter Maggie have the honors. Maggie, a ninth grader, is a good cook but very linear when it comes to implementing a menu. She's a sequence chef who methodically prepares one dish at a time. Left without oversight, Maggie's mashed potatoes would leave the stove four hours after the bird was already consumed. Two hours after the mashed potatoes she'd follow with vegetables, then pumpkin pie another hour or two later. Thanksgiving Dinner preparation has the potential of lasting into Black Friday breakfast, a serial affair.
My parents are visiting this Thanksgiving but Mom isn't a playmaker in the kitchen. My siblings and I never understood her methods or rationale when we were growing up. But we didn't complain. We just assumed that air compressors, torches and ball peen hammers were part of her tool kit for making turkey.

A few years ago we started a new family Thanksgiving tradition, participating in a local turkey trot. The "Run for Food 5K" is a good cause and benefits a faith-based organization that feeds the needy. The irony in this 5K event is that many of us who race aren't running. A few hard core folks wear computer chips to record their times and actually break a sweat. But for the rest of the pack it's more of a community group hug and waddle. I'm competitive though. I want to beat last year's time of 77 minutes.
I'm grateful for many things this Thanksgiving. The economy could be better but several work projects have promise. We have a roof over our heads. Our cars work. My parents are healthy enough to visit and my kids are young enough to stay home. And I now remember most of my computer passwords.

I don't care if it is the seconds that put on calories. I'll eventually work them off. For tomorrow I'll wear stretchy sweatpants. It's the minutes and hours with family I'll count. Happy Thanksgiving.
###
PS  I'm not into Black Friday but if you're in need of a stocking stuffer, check out my book "Let Me Tell You a Story" which is available at Lyon Books in downtown Chico (or at Amazon).  You can also follow me on Facebook or Twitter by visiting Etc.Guy.