Christmas is a week out and I'm in the same state of mind as I was 365 days ago. Hurried, disheveled and trying to jam fifteen minute errands into eight. We need a mega-blizzard in my fair town to slow things down, or at least slow down everyone else.
Over the last two years I've voraciously read and laughed at books authored by my favorite humor writers. I've also had the good fortune to interview several of them as part of my Humor Project, which is propelled by a self-funded-gerbil-powered budget. My pipe dream for 2015 is to get sponsorship [from a magazine?] so I can travel the country and meet more.
Below I've listed several of my favorite writers, in no particular order, because they're all great. If you don't laugh from reading these guys please see a doctor. Buy their books. You'll be in a happier state of mind after reading their work than you were before. Here you go:
Steep, Deep and Dyslexic, 2005, 184 pages, by Biff America (aka Jeffrey Bergeron)
I interviewed Bergeron last year. Based in Breckenridge, Colorado, Bergeron writes as Biff America for the Summit Daily News and Backcountry Magazine. He's a comedian, skier, mountain biker, traveler and consummate story teller. My interview with Bergeron entitled "Humor Writer Biff America Keeps Skiers Laughing" appears on my Humor Project link. Here's a pitch from former Saturday Night Live cast member, Rachel Dratch: "Whether it is on stage or on top of a fourteen-thousand-foot summit, Biff America can make you laugh, cry and feel nauseous—all at the same time." Click this Amazon link to get a copy…
A Fine and Pleasant Misery, 1981, 209 pages, by Patrick F. McManus

Last summer I drove 750 miles to have lunch with McManus. We talked for nearly two hours and I laughed throughout the entire meal. My time with him was priceless. A gracious man, he's written over 25 books and has reached the New York Times bestseller list four (maybe five or more?) times. He's also written humor columns for Field and Stream, Outdoor Life…the list goes on. He's now in his eighties, supposedly retiring. Hmmm. I recently read his new mystery Circles in the Snow. My McManus interview, which is entitled "Eighty Year-Old Patrick McManus Still Hunts for Laughs," also appears on my Humor Project link. "Everybody should read Patrick McManus." The New York Times Book Review

To browse McManus' Store, which expects to be off-line by the New Year, you better hurry. Browse here. McManus' work also appears in major bookstores.
The All America Sport of Bipartisan Bashing, 2008, 296 pages, by Will Durst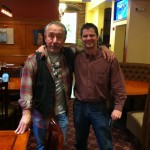 Earlier this year I watched Will Durst perform excerpts from his BoomeRaging Show to an audience full of farmers. I sat with a mixed partisan group of Republicans and Democrats who nervously glanced about the room, like deer waiting to cross a road. We had breakfast together the next morning and his interview appears in the Central Valley Business Times (Baby-Boomer Will Durst is in the business of making you laugh). See him perform if you have the chance. Browse his site to buy one of his books or learn about upcoming performances. "An equal opportunity offender with a restless mind and delicious sense of language." Los Angeles Times
History of the Millenium (So Far), 2008, 236 pages, by Dave Barry

I haven't met Dave Barry but he's on my wish list. Barry's history book is one of the finest, truest, and most accurate…and inaccurate…books I've ever read. Still, it made the New York Times Bestseller list. My wife Hun asked me to leave the bedroom because my snorts kept her awake. Barry's books appear in major bookstores. "[An] uproarious recap of a bunch of history we wish we could forget." St. Petersburg Times
A Walk in the Woods, 1999, 274 pages, by Bill Bryson

I'm still reading Bryson's adventurous account hiking the Appalachian Trail. Bryson recently lectured in Chico but I didn't have my act together to coordinate an interview. A hilarious speaker, Bryson had an audience of 500 roaring. With 20:20 hindsight, I wish I read "A Walk in the Woods" twenty years ago…before it was even published. His books also appear in major bookstores. "Bryson's truth-telling happens to be hilarious." Los Angeles Times
Let Me Tell You a Story, 2014, 132 pages, by Eric Miller

Hah, had to sneak in my book. "Let Me Tell You a Story" is a collage of short humor pieces published in various magazines and newspapers. At 132 pages, I was surprised that I was full of so much baloney. My wife, Hun, disagrees. All proceeds support the Etc. Guy blog and future Humor Project interviews. If you've already purchased a book, I greatly appreciate it. If you're inclined, please write a review on Amazon by clicking here. Copies of "Let Me Tell You a Story" are also available at Lyon Books in Chico. "Eric Miller is an aging athlete that has more luck figuring out what's happening on a hockey rink than in the minds of his wife and teenage daughters." Hockey Player Magazine
Happy last minute shopping. I hope you enjoy some laughs. Oh yeah, and feel free to join the Etc. Guy Facebook page and "like" it too.
###