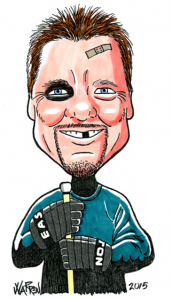 (Hockey Player Magazine, December 2015)
December is the season for leaf fall, snow fall, and puck drops.
My hockey buddies grin when frosty windshields mask the morning commute, especially the guys from Minnesota or Canada where vegetables come in casseroles and nuts come from cans.
With ice scrapers in hand they reminisce of childhood hockey careers, played in towns surrounded by pine forests and poplar trees.  The autumn leaves flutter to ground, unpredictably, just like my wrist shot that floats high or flutters wide of the net. The only commonality between leaf drop and my fluttering shot is gravity.
Early winter in Northern California is synonymous to late summer in northern latitudes.  Not far from our in-line rink stands orchard groves.  Forests of almond and walnut trees blanket our valley, an agricultural area that, if it were a puzzle piece, would fit inside the palm of Michigan's hand.  Northern California's winter is mild and spoiling—snow seldom reaches our valley floor.  Here, locals complain when temperatures dip below 45 degrees, an arbitrary number where shoes replace Birkenstocks.  But compared to Southern Californians, in the land of rainbows, unicorns and pixie dust, we're rugged folk.
Hockey is uncommon in California but for those of us who play it's the only sport that matters.  We don't care about leaf fall or snow fall, only the three foot fall of a puck dropped from a squatting referee.
My recreation league Blazers enjoyed a hat trick of championships the past three seasons.  We began our streak after going 2-10 before league coordinators took pity and reorganized our team.  This Fall though several Blazers moved on.  It was time to rebuild.
A core group of Blazers returned including Crazy Eddie, our goalie, who's a blend of lumberjack and wildebeest.  With wiry black hair spiking outside his helmet, Crazy Ed arrives early every game but he's still the last guy to suit up.  He warms-up by taking three shots of Red Bull and two slap shots.  Never have I seen a happier guy on the rink.  The man purrs while guarding the net, a competitive advantage for the Blazers.  His purring freaks out opponents.
Our captain, Blaze, is a former college player and team veteran.  Blaze majored in entomology and sold live crickets to pet stores for extra credit.  He blew out his knee two years ago but came back strong.  To rehab, Blaze tugged hockey nets across the rink with his teeth.
Stretch, a 6'2″ and 133 pound string-bean, rejoined the Blazers after a short siesta.  Since I last saw him, Stretch gained four pounds and added more body paint to his back.  The tattooed jeep he gushed about last year now has an Oakland Raider driving it.
Pontiac, a wise-guy from Michigan, is now a long-time Californian.  By day he's an insurance agent who protects clients but on the rink he instigates penalties to protect teammates.  Pontiac also commutes two hundred miles a week to skate in an ice hockey league.  He sat out a game one night after pulling ice skates, not wheeled skates, from his gear bag.
A new Blazer, Keg, is taller than Stretch but a hundred pounds heavier.  Keg's day job marketing beer meshes well with a weekend job selling home furnishings.  Keg occupies 200 square feet of living space after gearing up.  He's a great addition to our defense.
We won our first three games this season then lost a trio.  Several guys missed consecutive games but we ultimately coasted into the playoffs with a 6-4 record.  Though we generally played well we never found our groove.  I whiffed nearly every shot—my scoring statistics ranked lower than DMV customer service ratings.
Team Lipitor, our first round opponent, includes older guys.  One of them, Doc, is a physician from Canada.  A proponent of socialized healthcare, Doc checks prostates between shifts.  With guys hunched over Team Lipitor's bench we anticipated a winnable game.  We fought hard and out-shot our rivals but lost.
In the second round we played a younger team of middle-aged dads, college guys and high school studs.  Only five of my teammates made that game so the rest us skated double shifts.  Our lungs and legs gave out by the second period.  Midway through the third Crazy Eddie curled up inside the net, too tired to purr.
We're now on hiatus through the holidays which is fine with my wife, a hockey widow.  I'll use the time to work myself out of trouble.  My mate banished me to the doghouse for missing too many Sunday night dinners.
Hockey has been part of my life over forty years.  The game hooked me from the first puck drop.  And it's been that way ever since.
###
Eric Miller skates with the Hamilton City Hockey Club at the North Valley Hockey and Sports Complex near Chico, California.  He occasionally scores on empty nets.  He is currently compiling a digital collection of stories that have appeared in Hockey Player Magazine.  Contact him via his Etc. Guy blog, on Facebook, or send him a note at eric@etcguy.com.