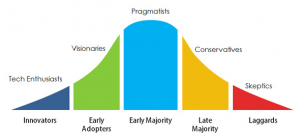 (Central Valley Business Times, December 2015)
Laggards, in marketing lingo, are consumers that ride the tail end of the Diffusion Curve.  Whether it's computers, TV sets or toasters, I am not an early adopter.  I lag.  Every Christmas season (which starts after Halloween), I wrestle with more consumer purchase decision making than the rest of the year.  The bustling crowds, blaring holiday music, and banners promoting BOGO's, only adds to my befuddlement.
In comparison, my wife and daughters shop with the endurance of Olympic athletes.
An end-of-year-sale was the hook.  The four of us stood in the aisle of a big-box store, staring at eighteen TV screens.  Customers muttered as they trudged by.  The sales agent, a guy named Steve, pitched the merits of pixels, performance, and playback.  My brain processed Steve's pitch when he thwarted my consideration set with terms like HDTV, UHD-TV, and lithium ions.  We narrowed the choices to a Panasonic, Sony, or Samsung.
"For sports consider the Sony, but for movies try the Panasonic," he said while adjusting his nose-ring and eyeglasses. With tattoos on his neck and forearms, Steve wore more colors than a racecar.  He switched channels to compare pixels.  "More pixels mean better resolution.  Move back ten feet."
The Sony looked better.  No, wait, the Samsung.  I glanced at the Panasonic. My wife pulled me aside to let an old woman limp by.  A herd of consumers ambled behind the old woman and meandered across the big-box's floor, about the size of a football field.
"Which is better?" Steve asked.  The Sony or Samsung, or are they about the same?"
"The Samsung."
He switched channels on the Panasonic.
"Now which is better, the Panasonic or Samsung, any difference?"
It was like taking an eye-exam.  I couldn't decide.  Steve began to annoy me.  I once encountered a sales guy named Steve while shopping for tires.  "Do you want all-season terrain, all-terrain radials, or highway tread?"
And then there was another Steve who mixed paint at the hardware store.  "If I add a taint of this plum to royal red, you'll end up with a merlot, whaddya think?"
My mind wandered—retail managers seemingly only hire guys named Steve as order takers.
"How much is the Panasonic?" I asked.
"Three hundred dollars less than the Samsung, but the sale ends tomorrow.  We can install it for another hundred bucks but you can do it yourself… in about thirty minutes."
We bought the Panasonic.  With Steve's help, we loaded it onto a shopping cart larger than a Volkswagen and drove home.  My wife and I carried it to our spare bedroom where it remained inside its original box for two months.   Later that spring we were ready for our DIY project.  We removed our half-ton, splotchy-screen Zenith and laid out the tools:  Screw driver, fasteners, socket wrench, level.  My wife unfolded the mounting bracket instructions, written in Japanese, Portuguese, German, French, Spanish, Russian, Arabic, English and Swahili.  National Geographic maps unfolded smaller.
My high school daughter trimmed a sheet of paper the dimensions of the TV and taped it to the wall.   My 8th grade daughter approved its position.  Then, per the instructions, we were ready to drill pilot holes.  I searched the house for the drill.  No luck.  I knew we had a cordless drill somewhere, maybe even two.
"I'll search the garage," I told my wife, figuring it was misplaced somewhere in that black hole.
Guys find weird stuff in their garage while looking for something else.  I tripped on a bike pump and unearthed a windshield squeegee.  Thirty minutes later I discovered a bird's nest.  Ah, there it is…the drill.  But the battery was dead.
My wife came out to inspect my progress.  Two minutes later she found my twenty-year-old Skil Drill with a cord.  Cords help to locate lost tools during search-and-rescue missions.
We unpacked the Panasonic.  It came with more hardware than we needed, cords attached to nothing, a remote control without batteries, speaker wires, a wireless antennae, and more instructions; but no receiver cord.  I searched the instructions–in English–for an 800 number.
But I couldn't find our cordless phone.  Now I was getting mad.
I took a break and read the newspaper while my wife explored the TV's box.
"I found the receiver cord!" she exclaimed, sounding like a gold miner.
We leveled and fastened the mounting bracket and inspected our work.  My 8th grader asked when we'd be ready.
"Just a moment, be patient, we still need to hang the TV."
My wife and I lifted it onto the mounting bracket.
"That thing is heavy," I complained.  "Where do we attach the cords?"
She paused and then sighed, "Behind it.  Take it down."
We removed the TV, reviewed the instructions, and attached the cords, cables and other miscellaneous wires.  We adjusted the mounting bracket and re-hoisted the TV.  The beast weighed 80 pounds and by now we moved it three times, once from the spare room and twice to hang it.
"It doesn't look level," said the 8th grader.
"Does too," I said.  "It's fine."
"You should take it down again."
My high schooler intervened.  "Its level, just not centered."
Three hours, 40 minutes and 20 seconds later, the TV hung.
"Dad, what are you going to do with these five extra cords?" asked the 8th grader.
"Not to worry, let's put them in this box.  I'll store it in the garage."
Maybe I should've spent the hundred bucks.
###
Be sure to visit the Etc.Guy Facebook page and feel free to LIKE IT.