"Marketing is really just about sharing your passion."
Michael Hyatt, author of Platform: Get Noticed in a Noisy World
Hey folks, if you're facing a slow TV night, want to dodge yard work, or if you lose a bet, come visit me in the coming weeks. I'll be bouncing around Northern California promoting the Etc. Guy blog and my book "Let Me Tell You a Story." Here are event details:
October 2014
Paradise Authors Open House – Thursday, October 9, 2014, Paradise Library, at 7 PM.
Chico Authors Open House – Saturday, October 18, 2014, Chico Library, at 11 AM
November 2014
Northern California Author's Fair – Saturday, November 8, 2014, Mt. Shasta Mall, Redding, 10 AM. (Still trying to confirm that one.)
Author Stories, Wednesday, November 12, 2014, Chico Library, 7 PM.
For Author Stories, I'll give tag team presentations with fellow writers Joan Goodreau, Dan Irving, and Dan O'Brien. They're really cool writers. Plus they're fun. You'll like 'em.
So who's reading Etc. Guy? At least EIGHT people, including karate guys, hockey players, kayakers, men who wash cats, my kids, and two women between the ages of 18 and 80 (that data according to Facebook).
Come out and give me a hard time, it should be a hoot.
Author Warning: You may end up in a story.
###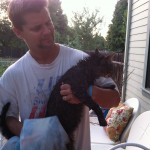 PS If you miss out, copies of "Let Me Tell You a Story" are available at Chico's coolest independent bookstore, Lyon Books, or at Etc. Guy.  Be sure to LIKE my Facebook page too.