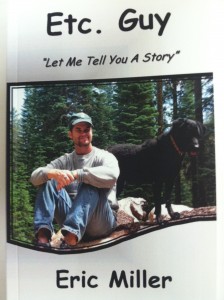 A lousy marketer I am.  If I was smarter, and I wish I was, I'd have written this post last month as a shameless ploy to sell my book Let Me Tell You a Story.  Oh, I'll still plug the book [BUY MY BOOK] but let's be realistic.  Earth is full of funny story tellers whether you're with friends gathered around a campfire or chatting next to a stranger in coach.  For your amusement I've listed several of my favorite writers [BUY MY BOOK] who I've listed alphabetically by height.  I'm sure they'll still be funny in 2017.
Dave Barry.  Anything that guy writes is funny, probably even his shopping lists.  Barry is retired from the Miami Herald but still blogs, freelances, writes books, does talk show gigs…you can't miss out buying Dave Barry's History of the Millennium (So Far), a riot.
Jeffery Bergeron (aka Biff America).  Biff is akin to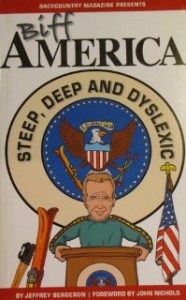 Dave Barry on skis.   Popular in the Rockies and in the skiing and mountain biking world, Bergeron writes for several newspapers and magazines. Biff's Steep, Deep and Dyslexic features stories involving yellow snow, dogs, snow drifts, ski crashes, bike crashes, relationship crashes, God, politics, and vegetables.  His second book, Mind, Body and Soul, carries onward from Steep and Deep.  I read Bergeron's column every week in the Summit Daily News.  Check out my interview with Biff here.
Bill Bryson.  I couldn't read Bryson's A Walk in the Woods fast enough.  A real page turner, Bryson writes a true account about walking the Appalachian Trail to find himself.  He did.  He found himself lost a few times but eventually got unlost.  Same riveting reading experience with One Summer, America: 1927 which follows events featuring Babe Ruth, the Yankees, Charles Lindbergh, Henry Ford, gangsters, the Roaring 20's, and more.  I saw Bryson speak last year, he's as funny in person as in print.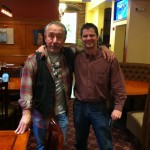 Will Durst.  Durst is a political satirist with plenty of upcoming material the next four years.  He's nationally syndicated, appeared on Letterman, and plays gigs across the United States.  I interviewed Durst a few years ago after a performance in Chico.  His Durst Journal is another one of my frequent reads.  Durst's All American Sport Bipartisan Bashing Rantings is on my list for 2017.
Garrison Keillor.  Now retired from hosting NPR's Prairie Home Companion, Keillor has more time to write.  I'm currently reading The Keillor Reader, a culmination of stories based on life at Lake Wobegon.  I never scored an interview with Keillor but I sent him a copy of my book.  Keillor wrote me a thank you postcard.  Very cool…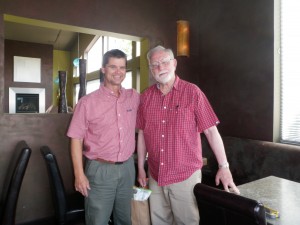 Patrick McManus.  I never tire of McManus' stories about guys getting lost in the woods, getting cars stuck, or getting trailer lights mis-wired.  Two highly recommended reads are:   The Grasshopper Trap and A Fine and Pleasant Misery.  I drove 700 miles (one-way) to interview McManus a few summers ago.  I informed him that I was profiling humor writers and that I'd be in the area (Spokane, Washington).  The truth is I lied. I'd never been to eastern Washington, knew nothing about Spokane, and had no practical reason to make the road-trip.  But meeting McManus was a golden opportunity to meet with a master.  He bought me lunch.  Really enjoyed meeting him.
I'll write more book reviews and author profiles in 2017.  If you have a copy of Let Me Tell You a Story I appreciate your support (that assumes you either bought a copy, one was re-gifted to you, or you lost a bet).  If you have time please write a review on Amazon (you can link there here).  Reviews help writers gain traction in a crowded media world.  So help me break the top 1.4 million list, a good goal.  Join me on the Etc. Guy Facebook page too.
And if you recommend a great book send me a note.  For radio listeners check out my recent interview with Northstate Public Radio's own Nancy Wiegman, host of Nancy's Bookshelf.  The program aired on December 30, 2016.  Merry [late] Christmas and Happy New Year.
If I don't see you in print maybe I'll see you again on the radio.